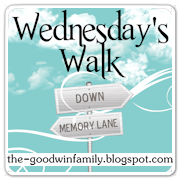 My Wednesday Walk (Down Memory Lane) is about our trip to VA Beach last spring for #1's softball tournament.
This is my favorite tournament. The water is always way too cold to swim in, but the beach is perfect to play on.
Monkey Man got to enjoy his first taste of sand.
Snug loved to watch the waves and made sandcastles.
Click above to see other people's memories, or participate yourself!